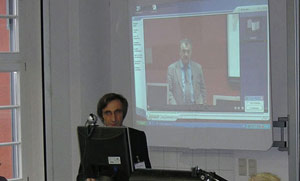 International IT-Training Courses for ShifoCom Secondary Schools Academic Network (InterSCAN)
The processes of computerization in the educational sector is gaining a rapid momentum in Tajikistan. Special attention is paid to secondary education because of feebleness of school own recourses in comparison to higher education institutions. One of the main resources which strongly need enhancement is human resources as mentality of school teaching staff should be moved towards information technologies. Under the motto that digital future of the nation is growing at school the InterSCAN project will contribute to the decisive progress towards Information Society in Tajikistan. That is why the junction between higher and secondary education is extremely promising as university know-how can flow directly to the most receptive young audience. Skills and experience in IT usage will be collected and attractiveness of Internet in classes will become evident.
Politechnical University of Tajikistan together with ShifoCom Center have already started their educative activities at school level by gathering schools under the umbrella of ShifoCom Secondary Schools Academic Network (SCAN) will establish with Tempus-Tacis support a framework of further IT education of Tajik school teachers. Due to this support Politechnical University teachers will educate master trainers selected from SCAN teaching staff. This training will be organized at Politechnical University of Tajikistan as a combination of presence and virtual teaching supported by InterSCAN elearning portal developed in the course of running JEP. Educated master trainers will carry a series of pilot delivery of multiplier trainings simultaneously in 2 regions of Tajikistan for secondary schools teachers under supervision of university academic staff. In the course of the project 150-200 teachers will be educated and what is especially important a framework for the further training activities will be established. Multimedia online support provided by InterSCAN will guarantee sustainability of this framework. After their establishment in the course of the project subject oriented teacher groups moderated by master teachers will serve as permanent forum for dissemination of advanced IT experience for secondary schools of Tajikistan.